Advertising
Copywriter. Creative Consultant. Writer
What I Can Offer You
Develop and write campaign strategy, online and off.
Create, manage and grow campaigns on Facebook, YouTube, Twitter and other relevant platforms.
Create original copy that is on-strategy and cross-platform
Create error-free, concise, clean copy
Develop original, innovative and realistic ideas for pitches, stunts, print ads, scripts, etc.
Ensure brand consistency on all projects
Translate and adapt campaigns from French to English
Create editorial, promotional, corporate and paid-for tweets
Create stand-alone print, promotional print, scriptwriting, etc.
Adhere to tight project deadlines and budgets
Work exceptionally well with national and international clients
Make people laugh. In a good way. Promise.
More of my work
I have worked with many highly respected companies, including JWT, Air Canada, Quebecor, CBC-TV, Just for Laughs, Bleublancrouge and DentsuBos. Previous and current advertising and promotional clients include VISA/CIBC, American Express, BOB ad agency, Devimco Immobilier, KOZE ad agency, CloudRaker (client: Kijiji Canada), CanLii.org, FitCorps, Blackout Fitness, IATA, Aiglon College, City of Villars-sur-Ollon, (Switzerland), among others.
I have written 2,200+ editorial, promotional, corporate and media tweets for DentsuBos' client Hitachi (Twitter handle: @HitachiGlobal – with 26,000 followers) and I have produced summary copy for roughly 120 articles for the Hitachi microsite: http://www.hitachi.com/businesses/innovation/case_studies/index.html. In addition to drafting the copy for the twitter handle and the microsite, I also negotiate publishing rights, draft titles, and most importantly, ensure the copy is error-free and appropriate for the client.
The best of the Hitachi microsite summaries appear in a Hitachi-branded newsletter and is emailed to thousands of people worldwide. The site itself is translated into multiple languages for maximum reach, including Chinese, Japanese, Portuguese, etc.
I have created and written multiple campaigns for KIJIJI CANADA (ad agency CloudRaker). These include Facebook Carousel ads, Facebook Image ads, banner ads (Postmedia), newsletter copy, etc.
NEW
NOVEMBER 2017: BOMBARDIER (end client Air Tanzania), scriptwriter – agency SHED. Audio only.
OCTOBER 2017: BRP SPYDER promotional copy – original and revisions – for ad agency Bleublancrouge. https://issuu.com/avachisling/docs/spyder_brochure_unit_my18_en
FEBRUARY 2017: Multiple ad and promotional copy for Bleublancrouge. Example translation/adaptation Montréal, It's electric: bit.ly/2mCtHb3
JANUARY 2017: Video scriptwriting. (Adaptation from French) Client: Devimco Immobilier. Destination: Promotional.
JANUARY/FEBRUARY 2017: Advertising copy. Four different campaigns (FB carousel, FB image, banner ads, etc). Client: Kijiji Canada. Destination: Kijiji users. Agency: CloudRaker.
DECEMBER 2016: Marketing copy. Client: Kijiji Canada. Destination: Kijiji users. Agency: CloudRaker.
OCTOBER 2016: Create and write multiple ad campaigns. Client: Kijiji Canada. Destination – Facebook. Agency: CloudRaker
SEPTEMBER 2016: Video Scriptwriter. Client: BiogeniQ. Destination – promotional. Agency: KOZE
SEPTEMBER 2016: English adaptation of agency website. Client and agency: KOZE. Destination – KOZE.TV
Devimco Immobilier: Video
My Hitachi TWEETS
@Hitachi_SocInn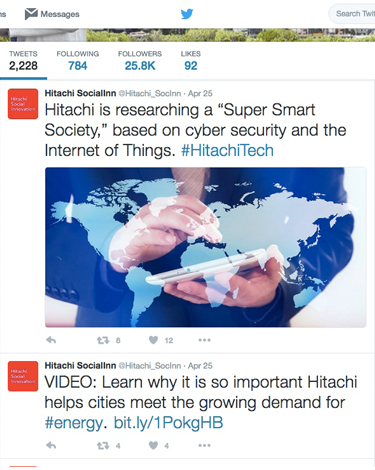 That's Great. But Who Are You?
I am a bilingual, award-winning copywriter and writer with experience in Canada, the UK, Japan and Switzerland. I have worked in advertising, television, film, radio, print, internet content, and most other forms of media.
In addition to my advertising work, I am also the former Editor of the Montreal Mirror and of Strut Magazine, and I am ex Executive Editor of enRoute Magazine (Spafax/WPP). I have published hundreds of articles in publications such as Time Out London, enRoute, The National, Strut, Canadian Lawyer, Royal Wings, AOL Online, Good.Is, Cycle Canada, to name a few.
And, Ahem!… I've Won a Few Awards
Winner of a Gold Kenneth R Wilson Award for Marketing Writing
Winner of a Merit National Magazine Award for Text and Photos
Winner of the Leon Levinson Award from McGill University
Winner of a Canada Council Award for writing
That's Good But Can You Handle the Net? YES.
Aside from working on the Hitachi twitter account and Hitachi microsite since 2013 and the Kijiji Canada ad campaigns for Facebook, I was also the European Editor for wcities, a company that orders, edits and customizes original digital reviews of hotels, restaurants, events, etc. in more than 500 cities worldwide, in five different languages. The fully customizable content was purchased by Yahoo, British Telecom and AOL, among others, and appeared on their respective websites for years. I worked on the retailer StyleXchange's website and I edited its magazine, the award-winning, Strut.
Kijiji Canada copy: "Put your cell to good use."